ORDERS:
704-799-2192




BIKE SPECIFIC
PARTS PAGES
FOR NEW
'03-'19 Models
(Grom, Monkey
Z125, RC390,
R3, R1, R6,
ZX-10, ZX6
CBR's, GSX-R's
& more)




"VIC" Repeat
Customer Discount
Program
---
TOP SELLERS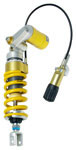 Ohlins Shocks,
Forks, & Dampers




Antigravity Superlight
Lithium Batteries
---
PRODUCT CATEGORIES

Air Filters
Engine Parts

Exhaust

Fairing Stay
Head Set Communications

Helmets
Mirrors / Mirror Block Off Plates
Race Stands

Radar Detectors

Radiator Hose Kits
Tank Traction Pads / Stomp Grip
Throttle Lock / Cruise Control
Tire Pressure Monitoring (TPMS)
Windscreens

Zombie Target

NecksGen

"VIC" Repeat
Customer Discount
Program




Hyosung
DynoJet Power Commander II / III / IIIusb / IIIr / V
DynoJet Quick Shifters & Ignition Module & Auto Tune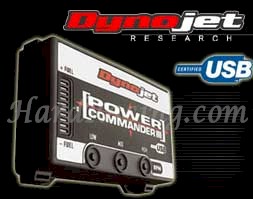 PC V showing with OPTIONAL accessories.


What is a Dyno Jet Powercommander
The Dyno Jet Power Commander PCIIIusb is a fuel injection and ignition timing (on some models) adjustment unit that plugs "inline" with the bikes' stock ECU. The DynoJet Power Commander PCIIIusb uses original equipment style connectors so that no splicing or cutting of the harness is required. Most installations take less than 15 minutes, some as little as 5 minutes. Changes are made to the bikes fuel and ignition curves via the Dyno Jet Power Commanders onboard microprocessor. Using this technology we are able to offer a large area of adjustment without making any permanent changes to the bikes' ECU (electronic control unit). Removing the Power Commander PCIIIusb returns the bike to its previous stock condition. The DynoJet Power Commander PCIIIusb can be ordered preprogrammed with a your choice of several settings, based on the modifications to your bike. The DynoJet Power Commander PCIIIusb also comes complete with software and cable link that allows you to change between different maps or make adjustments to a map file.
Who uses The Dyno Jet Power Commander (PCIIIusb & PC V ) ???

AMA / Pro Star National Drag Race Series
AMA Pro Racing - The US Super Bike Series
Padgett Racing Team Isle of Man SS Championship
Padgett Racing Team Isle of Man SBK Championship
Padgett Racing Team World SuperSport Winner
IDM Superbike Championship - Karl Muggeridge
Aluma-Lite Australian SBK Championship
Pat Clark Motorsports - Ben Bostrom
DNA Ducati
Aussie Dave Racing
Azza Racing (Australia)
LTD Racing
Team: Graves Yamaha Riders: Josh Herrin, Tommy Aquino
Jordan Szoke
Team: Graves Yamaha Riders: Ben Bostrom, Josh Herrin, Tommy Aquino
Geico Powersports - Danny Eslick
Team Monster/Emgo M4 Suzuki
Factory Kawasaki
Factory Yamaha
Attack Kawasaki
World Ducati Factory
Corona Honda Riders: Jake Holden, Matt Lynn
Former Champions
AMA SuperSport Champion (Factory Kawasaki / Roger Lee Hayden)
AMA Formula Extreme Champion (Factory HONDA / Josh Hayes )
AMA Formula Extreme Champion (Factory HONDA / Josh Hayes )
AMA SuperSport Champion (Factory Yamaha /Jamie Hacking)
AMA SuperStock Champion (Factory Yamaha /Jamie Hacking)
AMA Supersport Champion (Factory Kawasaki)
AMA Team M4/Emgo Suzuki
AMA Team Graves Motorsports (Factory Yamaha)
AMA SupersportChampion (Factory Kawasaki)
AMA Superstock Champion(Graves Yamaha)
AMA Superstock Champion
AMA Superbike Champion(Factory Honda/Nikki Hayden)
AMA Formula Extreme Champion Attack Suzuki
Factory Honda (CBR1000RR, RC-51, F4i, CBR600RR)
Erion Racing (CBR1000RR, CBR954, F4i, CBR600RR)
Attack Suzuki (02-03 Formula Extreme Champion)
Valvoline/Emgo Suzuki (GSX-R 600/750/1000)
Graves Yamaha (R6 / R1 )
All Powered w/ DynoJet Power Commanders .!!!


We will NOT be Undersold..... WE GUARANTEE IT.
We WILL Beat It ANYONE ELSE's Advertised Price On
"IN-STOCK" Power Commanders
In most cases each bike only has ONE type of Power Commander available for it. All you have to do is look at the application chart listed below. It clearly shows the power commander Models Available for your bike.
At this time Dyno Jet ONLY Makes those specific Power Commanders listed for that particular bike.... and No Other.
Hyosung
BIKE
YEAR

Model

Part #


Availability

SALE PRICE

Retail

Purchase!

GV650/GT650
'09-'10
PCV
13-001

Available

$299.99
$420




Dyno Jet PCIIIusb & PC V Add-Ons
Quick Shifters & Ignition Modules & Auto Tune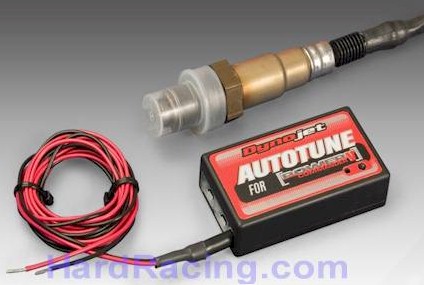 Auto Tune for Power Commander V
"Auto Tune" kits are available that include Wide Band O2 sensors and control boxes. It will plug directly into the PCV and allow automatic fuel adjustments.
Auto Tune can make a map for each gear it can map each cylinder separately for each gear if needed. (basic settings would make one map for all gears)
"Warm Up" fuel adjustment (unit reads engine temp and allows fuel/timing adjustments based on it)
Each map cell is individually adjustable so you can specify an exact AFR value for each area if needed. This allows the tuner/user to select specific AFR targets for idle, cruise, and large throttle opening areas. By doing this you can automatically tune the cruise area for best fuel economy while at the same time achieve maximum power at wide open throttle.
If Dyno Jet does not have the exact map for your combination of parts you simply need to choose the closest one and let the Auto Tune kit do the rest. (if you have an very heavily modified engine and/or short drag pipes verifying your settings on a dynamometer is recommended).


AUTO TUNE KITS STARTING AT - $219
Click for more details >> AUTOTUNE <<
These Accessories are for PCIIIusb models ONLY!! They will NOT WORK with Other Models.


Power Commander Ignition Module

Now Available for Select Bikes

>> Ignition Module Pricing & Application Chart <<
An "Add-On" Power Commander Ignition Module ARE available for Power Commander USB & PC V 's. These modules will plug directly into the PC's expansion port and the bike's ignition coils. Dynojet Ignition Modules use the latest in "direct coil driver technology." Both advancing and retarding of the ignition timing at specific throttle position and rpm combination will be possible. In "Advanced Mode," the tuner will be able to set the timing for each cylinder individually.
The Power Commander Ignition Module will be available for popular sport bike models.
This does not apply to Harley model Power Commander USB's & PC V, as they include ignition timing adjustment ability as part of the base unit..
The Dynojet Quick Shifter Sensors are compatible with PCIIusb & PC V Power Commander ONLY and allow "full throttle, clutch- less" upshifts. These high quality sensors provide fast, accurate and reliable shifting in conjunction with the Power Commander. Sensors are attached to the gear linkage and connect into the Power Commander expansion port. All sensors include a Software utility which allows the user to adjust the "Kill Time" and "Minimum RPM Shift Point" within the Power Commander Control Center Software. "Please note these are NOT Power Shifters. They do NOT shift for you. The allow "full throttle, clutch- less" upshifts, by cutting the Fuel for a split second as you start to shift..

>> Quick Shifter Pricing & Application Chart <<

For more information, please refer to the guide belo: Linkage Adapters ONLY Sold w/ Quick Shifters.(Not sold Separately)
| | |
| --- | --- |
| Sensor Installation Instructions | |
| Shift Rod Installation Guide | |
Linear Sensors are universal..
Shift Rod Sensors require the gear linkage tie-rod to be modified. We are developing a range of tie-rods for the popular models, as well as universal tie-rods that are specifiAvailabley designed to give maximum adjustment, allowing a combination of different M6 right hand and left hand male and female threads over a wide range of 160mm to 280mm. This will allow easy installation on many models as well as some custom rear-set applications..