ORDERS:
704-799-2192




BIKE SPECIFIC
PARTS PAGES
FOR NEW
'03-'20 Models
(Grom, Monkey
Z125, RC390,
R3, R1, R6,
ZX-10, ZX6
CBR's, GSX-R's
& more)




"VIC" Repeat
Customer Discount
Program
---
TOP SELLERS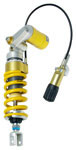 Ohlins Shocks,
Forks, & Dampers




Antigravity Superlight
Lithium Batteries
---
PRODUCT CATEGORIES

Air Filters
Engine Parts

Exhaust

Fairing Stay
Head Set Communications

Helmets
Mirrors / Mirror Block Off Plates
Race Stands

Radar Detectors

Radiator Hose Kits
Tank Traction Pads / Stomp Grip
Throttle Lock / Cruise Control
Tire Pressure Monitoring (TPMS)
Windscreens

Zombie Target

NecksGen

"VIC" Repeat
Customer Discount
Program





Motion Pro Revolver 2 Throttle Kits




Rev2 updates begin with a smaller and lighter throttle housing itself. More compact with even tighter tolerances, it
requires less handlebar space allowing better lever clearance and throttle positioning. That ultra-compact housing has
snap-together elbows that make it even easier to change those reels to adjust the throttle rate. All the cabling's been
updated on the Rev2, as well. The lower sections have 5mm housings with PTFE liners for reduced friction and increased
routing flexibility. The upper sections are 6mm for solid support for the billet aluminum inline adjusters. Included cable
boots keeps dirt and dust out for smooth, reliable operation.

Throttle tubes are included — motocross/off-road kits get the Titan Throttle Tube — and application-specific Rev2 black-vinyl
cables are supplied.The street/road race kits come with Motion Pro's Road- Control grips, while the motocross/off-road kits have the
DirtControl grips. There's also the full assortment of those interchangeable reels to vary that throttle rate, smaller
reels for slower throttle rates, larger ones to speed things up. Additionally, Rev2 kits now include a performance
cam reel, one specially designed for street and one for off-road. Selected by Motion Pro's professional riders,
they act like a slow throttle to 40 percent opening then progressively change to a fast profile from 70 percent to
100 percent throttle. There's an optional stop/start switch available, as well.



Rev2 Throttle Kits

· The most advanced variable rate throttle in the world
· Innovative reel changing system lets you tailor the throttle rate to riding conditions and rider preference
· Ultra-compact housing with snap-together elbows make it easy to install and change reels
· New sleek design requires less handlebar space for lever clearance and throttle position
· Use smaller reels for slower throttle rate and larger reels for faster throttle rate
· Included cam reel provides progressive throttle response preferred by some riders
· Unique reel design allows fast reel changes
· Cable boot keeps dirt and dust out for reliable and smooth operation
· Billet aluminum inline cable adjusters for easy installation and adjustment
· Lower section of cables use 5 mm housing with PTFE liner for reduced friction, increased routing flexibility and lighter weight
· Upper section of cables use 6 mm housing to provide solid support of adjusters
· Simple to install and maintain
· Designed by Motion Pro
· Patent pending
Kit includes:
· Rev2™ throttle assembly with throttle tube (MX/Off-Road kits include Titan™ Throttle Tube)
· Motion Pro Rev2™ black vinyl cables specifically designed for your bike
· Street/Road Race kits include Motion Pro RoadControl™ grips and MX/Off-Road kits include Motion Pro DirtControl™ grips
· Standard interchangeable reels: 35mm, 40 mm, 45 mm, 50 mm
· Cam reel (Sportbike kits include Street/Road Race cam reel and Offroad kits include MX/Off-Road cam reel)

- Optional Start/Stop Switch -
- Required if not part of Stock Assembly -


Applications:

Aprilia
RSV4 '09 - '15(requires start/stop switch) -$148.49

BMW
S1000RR '09 - '12 -$148.49


Ducati
848 SBK '08 - '10 -$148.49
848 SBKEVO '11 - '13 -$148.49
848 SBKEVO Corsa SE '12 - '13 -$148.49
1098 SBK '08 -$148.49
1098R Bayliss SBK '09 -$148.49
1098R SBK '08 - '09 -$148.49
1098S SBK '08 -$148.49
1198 SBK '09 - '10 -$148.49
1198R Corse SBK '10 -$148.49
1198S Corse SBK '10 -$148.49
1198S SBK '09 - '10 -$148.49
1198SP SBK '11 -$148.49

Honda
Grom / Grom SF '13-'17 (requires start/stop switch) - $148.49
CRF250R '04 -'09 -$148.49
CRF250R '10 - '13 -$148.49
CRF250R '14 - '15 -$148.49
CRF250X '04 - '09 -$148.49
CRF250X '12 - '13 -$148.49
CRF450R '02 - '08 -$148.49
CRF450R '09 - '14 -$148.49
CRF450X '05 - '09 -$148.49
CRF450X '12 - '13 -$148.49
CBR600RR '03 - '06 (requires start/stop switch) -$148.49
CBR600RR '07 - '14 -$148.49
CBR1000RR '04 - '07 -$148.49
CBR1000RR '08 - '13 -$148.49

Kawasaki
EX250J '08 - '12 -$148.49
EX300 Ninja '13 - '15 -$148.49
EX400 Ninja 2018 -$148.49
KX 250F '06 - '10 -$148.49
KX 250F '11 - '12 -$148.49
KX 250F '13 - '15 -$148.49
KLX 450A '08 - '09 -$148.49
KLX 450AA '12 - '13 -$148.49
KX 450F '06 - '08 -$148.49
KX 450F '09 - '11 -$148.49
KX 450F '12 -$148.49
KX 450F '13 - '15 -$148.49
ZX-6R/RR '05-'06 -$148.49
ZX-6R '07-'08 -$148.49
ZX-6R '09-'12 -$148.49
ZX636 '13 -'15 -$148.49
ZX-10R '06 - '07 -$148.49
ZX-10R '08 - '09 -$148.49
ZX-10R '11-'15 -$148.49
ZX-10R '16-'17 -$148.49
ZX-14R '06-'07 -$148.49
ZX-14R '08-'11 -$148.49
ZX-14R '12-'14 -$148.49


KTM
RC390 '15-'16 (requires start/stop switch) - $148.49

KTM's Off Road - $148.49

Suzuki
RMZ 250 '08 - '14 - $148.49
RMX 450 '10 - '11 - $148.49
RMZ 450 '08 - '12 - $148.49
RMZ 450 '13 - '14 - $148.49
GSXR 600 '04 - '05 (requires start/stop switch) - $148.49
GSXR 600 '06 - '07 (requires start/stop switch) - $148.49
GSXR 600 '08 - '09 (requires start/stop switch) - $148.49
GSXR 600 '11 - '14 (requires start/stop switch) - $148.49
SV 650S '03 - '09 (requires start/stop switch) - $148.49
GSXR 750 '04 - '05 (requires start/stop switch) - $148.49
GSXR 750 '06 - '07 (requires start/stop switch) - $148.49
GSXR 750 '08 - '09 (requires start/stop switch) - $148.49
GSXR 750 '11 - '14 (requires start/stop switch) - $148.49
GSXR 1000 '05 - '06 (requires start/stop switch) - $148.49
GSXR 1000 '07 - '08 (requires start/stop switch) - $148.49
GSXR 1000 '09 (requires start/stop switch) - $148.49
GSXR 1000 '11 - '15 (requires start/stop switch) - $148.49
SV 1000S '03 - '07 (requires start/stop switch) - $148.49
GSX 1300R '08 - '09 - $148.49
GSX 1300R '11 - '12 - $148.49



Triumph
Daytona 675 '06 - '11 -$148.49
Daytona 675R '11 - '12 -$148.49


Yamaha
WR 250F '03 - '09 - $148.49
WR 250F '11 - '13 - $148.49
YZ 250F '03 - '13 - $148.49
YZ 250F '14 - '15 - $148.49
WR 450F '03 - '09 - $148.49
WR 450F '11 - $148.49
YZ 450F '03 - '09 - $148.49
YZ 450F '10 - '13 - $148.49
YZ 450F '14 - '15 - $148.49
YZF R3 '15 - '16 (requires start/stop switch) - $148.49
YZF R6 '03 - '05 (requires start/stop switch) - $148.49
YZF R6 '06 - '07 - $148.49
YZF R6 '08 - '14 - $148.49
YZF R6S '06 - '09 (requires start/stop switch) - $148.49
YZF R1 '04 - '06 - $148.49
YZF R1 '07 - '08 - $148.49
YZF R1 '09 - '14 - $148.49
YZF R1/R1M '15-'16 - $148.49