ORDERS:
704-799-2192




BIKE SPECIFIC
PARTS PAGES
FOR NEW
'03-'19 Models
(Grom, Monkey
Z125, RC390,
R3, R1, R6,
ZX-10, ZX6
CBR's, GSX-R's
& more)




"VIC" Repeat
Customer Discount
Program
---
TOP SELLERS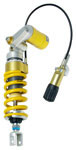 Ohlins Shocks,
Forks, & Dampers




Antigravity Superlight
Lithium Batteries
---
PRODUCT CATEGORIES

Air Filters
Engine Parts

Exhaust

Fairing Stay
Head Set Communications

Helmets
Mirrors / Mirror Block Off Plates
Race Stands

Radar Detectors

Radiator Hose Kits
Tank Traction Pads / Stomp Grip
Throttle Lock / Cruise Control
Tire Pressure Monitoring (TPMS)
Windscreens

Zombie Target

NecksGen

"VIC" Repeat
Customer Discount
Program




DynoJet Power Commander II / III / IIIusb / III r / V
DynoJet Quick Shifters & Ignition Module


What is a Power Commander II / III /IIIusb / III r a.k.a. (PCII / III) ?
The PC is a fuel injection and ignition timing (on some models) adjustment unit that plugs "inline" with the bikes' stock ECU. The PC uses original equipment style connectors so that no splicing or cutting of the harness is required. Most installations take less than 15 minutes, some as little as 5 minutes. Changes are made to the bikes fuel and ignition curves via the PC's onboard microprocessor. Using this technology we are able to offer a large area of adjustment without making any permanent changes to the bikes' ECU (electronic control unit). Removing the PC returns the bike to its previous stock condition. The Power Commander can be ordered preprogrammed with a your choice of several settings, based on the modifications to your bike. The unit also comes complete with software and cable link that allows you to change between different maps or make adjustments to a map file.
How Much Power Will It Give Me ?
Well that can depend upon many things but what we can tell you is "The perfect air/fuel ratio will ensure that the engine can produce the maximum possible horsepower for that given combination". We must also understand that a typical street rider spends a great deal of time riding in part throttle conditions. Shown below are two graphs of a motorcycle before and after installation of the Power Commander . The top graph shows the horsepower curve accelerating at a 40% throttle opening and the lower graph shows the corresponding air / fuel ratio. You can see a large horsepower increase between the two. The red curve shows a typical stock motorcycle with minor performance modifications (slip-on exhaust). The blue curve shows that same combination with the PC installed and you can see that the line is nearly straight. So the rider will feel a large improvement while riding the motorcycle and it is very possible that the peak wide open throttle horsepower is unchanged.The correct air/fuel ratio number (say 12.9:1 or 13.2:1) depends upon many factors like combustion chamber design but what we want is that figure at every point in the curve (straight line).
How Can I Tune With The Power Commander ?
Base Map
The Power Commander is supplied with a given (base) map stored in the microprocessor. This (base map) is typically a map that has been developed to provide an improvement for most combinations matching the map description (i.e. stock bike or performance exhaust and air filter). In general we have found that a typical stock bike has areas in the fuel curve that are far from optimal for drive-ability and performance. We could say that they are typically 70% optimized in stock condition and 60% - 65% with minor performance modifications. After installation of the Power Commander with the base map, we would expect to see 85%-95% optimization.
Alternate Maps
Each Power Commander is supplied with a number of alternate maps on a CD-ROM and all the maps are available for download at PowerCommander.com. You may notice that we have a map specifically for "Brand A" slip-on exhaust and another for "Brand B" slip-on exhaust. Although the difference between the two maps is likely to be very small, these differences will increase the optimization for that given combination. If you have a "Brand C" exhaust and we do not have a specific map, you should find that "Brand A" or Brand B" maps will provide a good improvement on your bike.
If you have no Windows 95/98/ME/XP computer and you require a special map that Dynojet has developed, UPON REQUEST AT THE TIME OF PURCHASE, ask your dealer to upload that special map in your Power Commander. Only - $5 more for Pre-Loaded Map. Please be sure to specify what Map you would like to be Loaded.
Face Plate Buttons
You can change the fuel curve with the faceplate buttons. This is a simple adjustment that can move the fuel curve richer or leaner in each area of the map. (Please refer to the paper installation guide or adjustment video on the CD-ROM).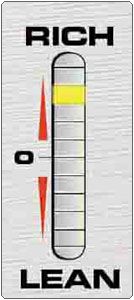 If you have a Windows 95/98/ME/XP computer, you can upload alternate maps or make changes to the existing map using the Control Center software and serial port link cable supplied with your PC. (Detailed Software tutorials and quick reference software screen shots are available on the CD_ROM or web-site).





How do I get 100% optimization?
First ask yourself......Is it necessary?
You installed the PC, you noticed a positive improvement and the most annoying problems like overheating, surging or pinging have been eliminated. In this state you are probably 90-95 % optimized. Which for most is a Huge Improvement.
If you desire 100% optimization or you require a custom map for a special application, you must select a Certified Dyno Tuning Center or a Local dealer that has the proper equipment and training to accomplish this for a reasonable cost and without damage to your motorcycle.
Computer Mapping
Dynojet is in the process of selecting specialized dealers throughout the country that can offer you this service. Dealers who have the proper equipment installed and pass a detailed Power Commander Training School at the Dynojet facility, will be given the distinction "Dynojet Approved Power Commander Tuning Center" and will be listed on our web-site.
Ignition
Power Commanders for some models can also control the Ignition Curve. You can adjust the ignition curve for increased part throttle response, increased peak power, or to eliminate detonation. On most models the ignition curve is close to optimum for "pump" fuel. In some cases it is possible to increase part throttle torque by adjusting the timing. With high octane racing fuel further gains can be realized at wide open throttle. Harley Davidson models, in some configurations, can benefit from a reduction in timing advance. If heavily loaded or during hot weather the PC can be adjusted to eliminate the "pinging" that is so common during these conditions.

<< BACK TO Power Commander Pricing and Application Chart

Power Commander II

The Power Commander II was introduced in 1999 and featured the latest surface mount electronics. Additional features were added like the faceplate button adjustment. The Power Commander II also allowed fuel and ignition adjustment on select models. The PCII utilizes "sensor offset" technology to adjust the fuel curve. Signals from the various sensors on the bike are monitored by the PCII and these signals are recalculated and sent to the ECU in order to achieve the required fuel curve.

Power Commander III

The Power Commander III was introduced in 2000 and is externally similar to the PCII. The PCIII utilizes "direct injector control" technology to control the fuel curve for models that do not possess the appropriate sensors to allow sufficient fuel adjustment using the PCII technology. The PCIII takes the injector pulse from the ECU and changes the pulse width signal to the injectors.This unit allows "Fuel Only" adjustment.

Power Commander IIIr

The Power Commander IIIr was introduced in November 2000 and utilizes the same "direct injector control" technology as the PCIII. The "r" version contains additional circuitry and in some cases, additional connectors, which allow Ignition adjustment as well as fuel adjustment. Ignition adjustments can provide very positive results on the race track, where factors like special fuel and highly tuned engines are used.
Power Commander IIIusb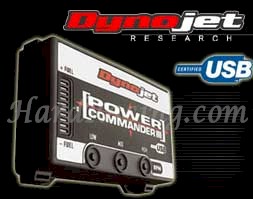 The Power Commander IIIusb was introduced in 2003 and utilizes the same "direct injector control" technology as the PCIII. The USB (Universal Serial Bus) port provides an instant, no-hassle way to connect the Power Commander module to a computer. This model also features an expansion port for add-on modules like Quick Shifters, And ignition modules, which will allow you to adjust the ignition timing.
The new Power Commander V is the latest in engine control technology from Dynojet. The PCV is very compact, yet offers expanded features and options, with tremendous control over your engine management system.

POWER COMMANDER V FEATURES

Smaller unit - less than ½ the size of PCIIIusb
Unit powers up via the USB - no need for 9v battery and adapter
2 position map switching as standard - switch not included
Gear and speed input as standard
5v analogue input as standard - boost, temperature, MAP etc
Enhanced Accelerator pump feature - vastly increased adjustment
Optional control unit to allow 8 injector mapping
Operates with Dynojet LCD display and Dynojet Quickshifter
New and improved software suite
Enhanced Quickshifter control - Adjustable kill time per gear and time between shifts.
Twin CAN ports for integration and expansion
Improved mapping features
o PCV allows -100% to +250% fuel adjustment
User definable map break points, upto 96 x 96 break points (10 Throttle position break points as standard, up from 9 for the PCIIIusb)
Individual mapping/maps per gear
Individual mapping/maps per cylinder
Individual mapping/maps against 5v input
For example a mapping per cylinder, per gear could result in 24 individual fuel maps

Harley Davidson PCV Units ONLY… Also Include:

o Fuel and timing control
o Rev Xtend
o "Warm Up" fuel adjustment (unit reads engine temp and allows fuel/timing adjustments based on it)
o Software will display J1850 data from bikes stock ECU (this is data such as temp, fuel pulse width, timing advance, spark knock etc.)


OPTIONAL ACCESSORIES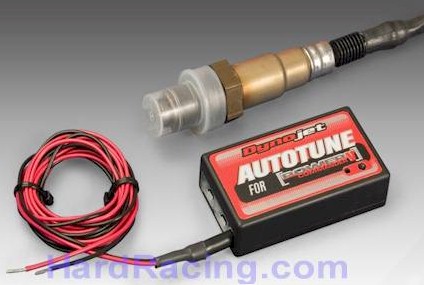 Auto Tune for Power Commander V
"Auto Tune" kits are available that include Wide Band O2 sensors and control boxes. It will plug directly into the PCV and allow automatic fuel adjustments.
Auto Tune can make a map for each gear it can map each cylinder separately for each gear if needed. (basic settings would make one map for all gears)
"Warm Up" fuel adjustment (unit reads engine temp and allows fuel/timing adjustments based on it)
Each map cell is individually adjustable so you can specify an exact AFR value for each area if needed. This allows the tuner/user to select specific AFR targets for idle, cruise, and large throttle opening areas. By doing this you can automatically tune the cruise area for best fuel economy while at the same time achieve maximum power at wide open throttle.
If Dyno Jet does not have the exact map for your combination of parts you simply need to choose the closest one and let the Auto Tune kit do the rest. (if you have an very heavily modified engine and/or short drag pipes verifying your settings on a dynamometer is recommended).

SPORT BIKE AUTO TUNE KITS (AT200) Retail : $250 OUR SALE PRICE - $219

HARLEY AUTO TUNE KITS (AT100) Retail : $370 OUR SALE PRICE - $309
(includes 2 - wideband o2 Senors)