ORDERS:
704-799-2192




BIKE SPECIFIC
PARTS PAGES
FOR NEW
'03-'20 Models
(Grom, Monkey
Z125, RC390,
R3, R1, R6,
ZX-10, ZX6
CBR's, GSX-R's
& more)




"VIC" Repeat
Customer Discount
Program
---
TOP SELLERS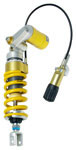 Ohlins Shocks,
Forks, & Dampers




Antigravity Superlight
Lithium Batteries
---
PRODUCT CATEGORIES

Air Filters
Engine Parts

Exhaust

Fairing Stay
Head Set Communications

Helmets
Mirrors / Mirror Block Off Plates
Race Stands

Radar Detectors

Radiator Hose Kits
Tank Traction Pads / Stomp Grip
Throttle Lock / Cruise Control
Tire Pressure Monitoring (TPMS)
Windscreens

Zombie Target

NecksGen

"VIC" Repeat
Customer Discount
Program




PROGRESSIVE SUSPENSION


Progressive 465 Shocks
Utilizes a large 46mm bore and deflective disc piston for precise damping. The beefy 16 mm hard chrome shaft rides on custom viton seals for low friction and leak free life.
The 465 is custom tuned for each application and is completely optimized for each bike, from the damping and spring rate all the way down to the jounce bumper.

Key Benefits:

- High Pressure Gas Monotube Design
- 5 Position Rebound Adjuster
- Threaded Body allows for Fine Adjustment in Sag

- Aluminum Body and Components for lighter weight

- Stock and 1" Lower Versions

- Hard Anodized Finish


BMW
MODEL
Year
Stock Length
Shocks
Retail
SALE PRICE
1" Lower
Shocks
Retail
Sale Price
K100 16 Valve
'89-'92
--
$550
--
465-1142
$550
$439.95
K100 LT/RT
'84-'91
465-1101
$550
$439.95
--
$550
--
K100RS
'88-'89
465-1101
$550
$439.95
--
$550
--
K100RS
'90-'92
--
$550
--
465-1142
$550
$439.95
K1100RS/LT/RSA/LTA
'93-'95
--
$550
--
465-1142
$550
$439.95
K75/A/S/RT
'92-'95
465-1101
$550
$439.95
--
$550
--
K75/C/T/LR/RT
'85-'91
465-1101
$550
$439.95
--
$550
--
K75S
'87-'95
465-1101
$550
$439.95
--
$550
--
R100GS
'88-'95
465-1131
$550
$439.95
--
$550
--
R100RS/RT
'88-'93
465-1118
$550
$439.95
--
$550
--
R100RT
'94-'95
465-1118
$550
$439.95
--
$550
--
R65
'85-'87
465-1118
$550
$439.95
--
$550
--
R65
'92-'93
465-1118
$550
$439.95
--
$550
--
R80/RT
'85-'87
465-1118
$550
$439.95
--
$550
--
R80/RT
'92-'95
465-1118
$550
$439.95
--
$550
--
HONDA
ST1100
'90-'02
465-1128
$550
$439.95
--
$550
--
ST1100 ABS
'92-'02
465-1128
$550
$439.95
--
$550
--
CBX(1000cc)
'81-'82
465-1115
$550
$439.95
--
$550
--

KAWASAKI

KLR650
'87-'07
465-1130
$550
$439.95
465-1144
$550
$439.95
KLR650
'08-'10
465-1001
$550
$439.95
465-1002
$550
$439.95
VN 800 VULCAN
'95-'05
465-1148
$550
$439.95
--
$550
--
VN 800 VULCAN CLASSIC
'96-'05
465-1148
$550
$439.95
--
$550
--
VN 800 VULCAN DRIFTER
2006
465-1148
$550
$439.95
--
$550
--
VN 900 VULCAN
'06-'10
465-1170
$550
$439.95
465-1171
$550
$439.95
ZG1000 CONCOURS
'86-'06
465-1155
$550
$439.95
--
$550
--
ZX14 NINJA
'06-'10
465-1173
$550
$439.95
--
$550
--
SUZUKI
1200 BANDIT
'97-'00
465-1137
$550
$439.95
--
$550
--
DL1000 V-STROM
'02-'09
465-1162
$550
$439.95
465-1164
$550
$439.95
DL650 V-STROM
'04-'09
465-1162
$550
$439.95
465-1164
$550
$439.95
GSX1300R HAYABUSA
'99-'09
465-1172
$550
$439.95
--
$550
--
VZR 1800 BLVD M109
'06-'09
465-1165
$550
$439.95
465-1166
$550
$439.95
YAMAHA
ROAD STAR
'99-'03
465-1139
$550
$439.95
465-1140
$550
$439.95
ROAD STAR (EX WARRIOR)
'04-'10
465-1139
$550
$439.95
465-1140
$550
$439.95
ROAD STAR WARRIOR
'02-'09
465-1159
$550
$439.95
465-1158
$550
$439.95
ROADLINER/
STRATOLINER
'06-'10
465-1161
$550
$439.95
465-1160
$550
$439.95
VENTURE ROYALE
'83-'93
465-1114
$550
$439.95
--
$550
--
VENTURE STD
'83-'88
465-1114
$550
$439.95
--
$550
--
V-STAR 1100/CUST/CLS/SLV
'99-'09
465-1151
$550
$439.95
465-1152
$550
$439.95
XV19 RAIDER
'08-'10
465-1168
$550
$439.95
465-1169
$550
$439.95