ORDERS:
704-799-2192




BIKE SPECIFIC
PARTS PAGES
FOR NEW
'03-'19 Models
(Grom, Z125, RC390,
R3, R1, R6,
ZX-10, ZX6
CBR's, GSX-R's
& more)




"VIC" Repeat
Customer Discount
Program
---
TOP SELLERS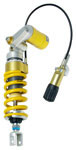 Ohlins Shocks,
Forks, & Dampers




Antigravity Superlight
Lithium Batteries
---
PRODUCT CATEGORIES

Air Filters
Engine Parts

Exhaust

Fairing Stay
Head Set Communications

Helmets
Mirrors / Mirror Block Off Plates
Race Stands

Radar Detectors

Radiator Hose Kits
Tank Traction Pads / Stomp Grip
Throttle Lock / Cruise Control
Tire Pressure Monitoring (TPMS)
Windscreens

Zombie Target

NecksGen

"VIC" Repeat
Customer Discount
Program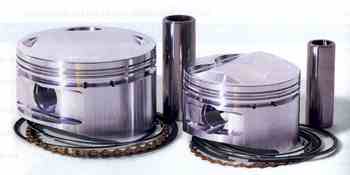 J.E. Pistons have gained an excellent reputation for top quality products. Kits available for most four cylinder Japanese sport bikes and other four-stroke applications.
Consider these outstanding features-

Made in U.S.A. from premium certified aerospace materials

Ultra light weight, fully C.N.C. machined from dedicated forgings

Proprietary wrist pin designs for the maximum strength and light weight

O.E.M. style rings for long term cylinder seal

NASCAR proven durability

All piston kits include pistons, rings, wrist pins & pin clips
Most big bore kits and gaskets for import motorcycles are in stock (KZ900/1000, GS1000/1100, GSXR7/11, XR250-650, FZR1100, ZX-11).
Sleeve type big bore piston kits are available by special order


CHOOSE YOUR MANUFACTURER For a COMPLETE LIST of Piston Kits, and Current SALE PRICES




PARTIAL J.E.
Piston

Kits Applications
Model
Year
Displ.
Bore
Comp.
Weight
(grams)
Piston Kit #
Head Gasket #
Base Gasket #
DUCATI
916
94-96
955cc
96mm
12:1
325g
625-900
n/a
n/a
900SS
91-99
900cc
92mm
11.5:1
345g
625-905
944cc
94mm
11.5:1
359g
625-906
HONDA
CBR1100XX
97-00
1195cc
81mm
11.5:1
220g
625-176
n/a
n/a
CBR900RR
92-95
945cc
72mm
12:1
175g
625-165
n/a
n/a
96-98
997cc
74mm
12:1
184g
625-166
Hawk 650 NT
88-92
663cc
80mm
11:1
264g
625-170
n/a
n/a
696cc
81mm
11:1
276g
625-171
CBR600 F2, F3
91-98
618cc
66mm
13.5:1
140g
625-150
n/a
n/a
637cc
67mm
13.5:1
148g
625-151
CBR600 F2, F3
Mini Spring
-
618cc
66mm
13.5:1
140g
625-155
n/a
n/a
KAWASAKI
GPZ1100
95-96
1109cc
78mm
12:1
212g
625-610
n/a
n/a
ZX11
90-99
1109cc
78mm
12:1
212g
625-610
607-135
607-240
KZ900-1000
All
1015cc
70mm
10.25:1
193g
625-600
607-110
607-200
1075cc
72mm
8.5:1
195g
625-601
607-111
607-200
1075cc
72mm
10.25:1
201g
625-602
607-111
607-200
1200cc
76mm*
10.25:1
220g
625-603
607-112
607-200
ZX9
91-95
791cc
73mm
12:1
194g
625-615
n/a
n/a
ZX9
98-00
936cc
76.5mm
12:1
208g
625-625
n/a
n/a
SUZUKI
GSX1300R
99-00
1299cc
81mm
12.3:1
239g
625-515
n/a
n/a
1363cc
83mm
12.7:1
248g
625-516
1397cc
84mm
13:1
246g
625-517
GSXR1100
89-92
1127cc
78mm
13:1
232g
625-430
607-146
607-245
1186cc
80mm
13:1
225g
625-431
607-153
607-245
1201cc
80.5mm
13:1
233g
625-439
n/a
n/a
1216cc
81mm
13:1
236g
625-432
607-136
607-246
1246cc
82mm*
13:1
244g
625-433
607-147
607-246
1277cc
83mm*
13:1
236g
625-434
607-147
607-247
1277cc
83mm*
15:1
232g
625-435
607-147
607-247
1340cc
85mm*
13:1
244g
625-436
607-151
607-247
1340cc
85mm*
15:1
245g
625-437
607-151
607-247
1371cc
86mm*
13.5:1
258g
625-438
607-127
607-247
GSXR1100
93-98
1117cc
77mm
12.5:1
219g
625-445
607-137
607-244
1146cc
78mm
12:1
228g
625-448
n/a
n/a
1195cc
79.5mm
12:1
224g
625-446
607-138
607-244
GS1100 (FLAT TOP)
81-83
1134cc
74mm
10.25:1
209g
625-450
607-100
607-203
1170cc
75mm
10.25:1
211g
625-451
607-100
607-203
1197cc
76mm*
10.25:1
222g
625-452
607-101
607-204
1260cc
78mm*
10.5:1
232g
625-453
607-102
607-204
1327cc
80mm**
11.1
237g
625-454
607-103
607-215
1360cc
81mm**
11.25:1
240g
625-455
607-145
607-215
1394cc
82mm**
11.5:1
250g
625-456
607-119
607-215
1428cc
83mm**
11.7:1
261g
625-457
607-120
607-215
1463cc
84mm**
11.8:1
262g
625-458
607-128
607-215
1500cc
85mm**
12:1
270g
625-459
607-125
607-205
GS1100 (DOME)
81-83
1134cc
74mm
13.5:1
214g
625-470
607-100
607-203
1197cc
76mm*
13.5:1
226g
625-471
607-101
607-204
1260cc
78mm*
13.5:1
239g
625-472
607-116
607-204
1295cc
79mm**
13.5:1
227g
625-473
607-117
607-205
1327cc
80mm*
13.5:1
239g
625-474
607-118
607-215
1394cc
82mm**
13.5:1
247g
625-475
607-119
607-215
1428cc
83mm**
13.5:1
248g
625-476
607-120
607-215
1500cc
85mm**
14:1
272g
625-477
607-125
607-205
GS1100 PRO-MOD
(DRAG RACE)
1394cc
82mm
12:1
285g
625-478
n/a
n/a
1500cc
85mm
14:1
272g
625-477
1570cc
87mm
15:1+
298g
625-479
GSXR750W
93-95
907cc
77mm**
13:1
196g
625-420
607-150
607-242
GSXR750
96-00
749cc
72mm Std.
12.8:1
169g
625-410
stock
call
770cc
73mm N
12.8:1
167g
625-411
n/a
call
791cc
74mm N
12.8:1
171g
625-412
call
SV650
99-00
677cc
83mm
12.8:1
238g
625-510
n/a
n/a
YAMAHA
R1
99-00
997cc
74mm
13:1
177g
625-215
n/a
n/a
FZR1000
89-96
1040cc
77mm
12:1
204g
625-220
607-139
607-250
CLICK HERE for Current
SALE PRICES >> JE PISTONS <<