ORDERS:
704-799-2192




BIKE SPECIFIC
PARTS PAGES
FOR NEW
'03-'19 Models
(Grom, Z125, RC390,
R3, R1, R6,
ZX-10, ZX6
CBR's, GSX-R's
& more)




"VIC" Repeat
Customer Discount
Program
---
TOP SELLERS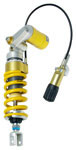 Ohlins Shocks,
Forks, & Dampers




Antigravity Superlight
Lithium Batteries
---
PRODUCT CATEGORIES

Air Filters
Engine Parts

Exhaust

Fairing Stay
Head Set Communications

Helmets
Mirrors / Mirror Block Off Plates
Race Stands

Radar Detectors

Radiator Hose Kits
Tank Traction Pads / Stomp Grip
Throttle Lock / Cruise Control
Tire Pressure Monitoring (TPMS)
Windscreens

Zombie Target

NecksGen

"VIC" Repeat
Customer Discount
Program






Bazzaz Performance was started in 2003 out of a clear need for expertise in the area of engine management and electronics for the top tier of professional motorcycle racing.

After working as a race engineer at Yoshimura R&D for six years and helping Mat Mladin bring home his first 3 AMA Superbike championships, Ammar Bazzaz decided to start Bazzaz Performance in an effort to fill this need in the racing market, ultimately with the goal of bringing this same technology and knowledge to the average racer and motorcycle enthusiast.

Entering the high profile AMA Superbike scene in 1997, at the same time as Electronic Fuel Injection, Bazzaz TC has been instrumental in its implementation, tuning, and application for the better part of 10 years.
From humble beginnings in the garage of his home, Ammar Bazzaz quickly expanded the company' exclusive engineering and design capabilities into the design and manufacturing of engine management electronics for the motorcycle racing industry. Completing its second expansion in the last three years, Bazzaz Performance TC now operates out of an 8,500 sq. ft facility in Chino, CA housing both R&D as well as manufacturing operations. Bazzaz Performance TC has been designing and tuning high performance engine management products for the top tier of motorcycle racing since its inception.

Bazzaz Performance TC has now committed to bring this high tech world of exclusive electronics down to the performance rider level. The new Z-Fi line of products from Bazzaz Performance TC offers innovative, state of the art engine management technology that is easy to use with an affordable price. Bazzaz Performance TC is upping the ante on what a rider should expect out of his/her aftermarket engine management electronics. Never before has technology at this level been offered to the general public.

In addition to designing and bringing race proven technology to the mainstream market, Bazzaz Performance TC is a proud sponsor of Michael Jordan Motorsports, and continues to work with professional racing teams such as such as American Honda, Don Schumacher Racing, and Safety First Racing.
Bazzaz Performance Bluetooth adapter for ZFI

No more laptops. No More cables.

Now you can make adjustments to your ZFI Maps, or Z-AFM self mapping.
Apply settings, and changes.
Tweak your fuel Injection
Change your Quick Shifter Setting
Adjust your Traction control.............. all from the palm of your hand.
Works with iPhones and iPads via a Blue tooth connection.
Adapter simply plugs into the USB Port of your ZFI module.


Bazzaz PerformanceBluetooth adapter for use with Bazzaz ZFi Units
Retail - $110 SALE PRICE - $88
iPhone, is NOT included. ;-)