ORDERS:
704-799-2192




BIKE SPECIFIC
PARTS PAGES
FOR NEW
'03-'22 Models
(Grom, Monkey
Z125, RC390,
R3, R1, R6,
ZX-10, ZX6
CBR's, GSX-R's
& more)




"VIC" Repeat
Customer Discount
Program
---
TOP SELLERS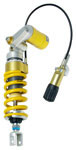 Ohlins Shocks,
Forks, & Dampers




Antigravity Superlight
Lithium Batteries
---
PRODUCT CATEGORIES

Air Filters
Engine Parts

Exhaust

Fairing Stay
Head Set Communications

Helmets
Mirrors / Mirror Block Off Plates
Race Stands

Radar Detectors

Radiator Hose Kits
Tank Traction Pads / Stomp Grip
Throttle Lock / Cruise Control
Tire Pressure Monitoring (TPMS)
Windscreens

Zombie Target

NecksGen

"VIC" Repeat
Customer Discount
Program




CBR954RR




-------------------------------------------------------------------------

FOR SALE:

As soon as we got our CBR954's we starting pulling parts off and installing Performance products.... as fast as we could.
Most of it was pretty obvious. Install Micron Serpents, PCIIIr, SS Brake Lines, Hiper White Xenon Bulbs, Zero Gravity Double Bubble Drk. Smoke.
Well, The Forks are, to say the least, Not very good. So we installed Race Tech Fork Springs, Gold Valve (Comp. & Rebound) Kit. Then of course, the rear shock had to go. So, we installed an Ohlins Shock.
Now the Bikes, Haul Ass, and Handles great.
Next step was looks. Well, we already have the ZG Wind Screen, The Color Matched SS Brake Lines, Removed the Rear Fender, and installed Matching Clear Short Stalk Turn Signals, to match the Clear LED Tail Lights.
Well, that only left the Stock Front Signals to replace. This time, We wanted to try something new and different. The End result came out very cool. And has gotten Very Positive Feedback from anyone who has seen it. So, we wanted to share it with everyone.
UPDATE:
After many weeks...... we all decided to get some Ohlins Forks. There is no way to explain the change. It's a totaly NEW Bike. Absolutely amazing handling characterists. Yes, it's a lot of money to spend on Suspension........ but, after you ride with a Complete Set of Ohlins Forks and Shock, you won't ever want to ride anything else ....... Ever again.
CBR954 w/ Hiper White Xenon Bulbs, Internal Front Signals, Zero Gravity Dble Bubble Drk Smoke.
Zero Gravity Double Bubble Drk Smoke.